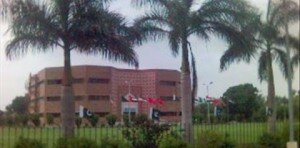 Recently, the construction for the Latif Ebrahim Jamal (LEJ) Nanotechnology Research Centre began at the University of Karachi. The ceremony for this occasion was performed by the former Chairman of the Higher Education Commission (HEC), Prof. Dr. Atta-ur-Rehman along with Dean of the Faculty of Science, Prof. Dr. Shahana Urooj Kazmi. Other government representatives were also in attendance.
The LEJ Research Institute of Nanotechnology will be established inside Karachi University's International Centre for Chemical and Biological Sciences (ICCBS). The Hussein Ebrahim Jamal (HEJ) Foundation has contributed a lot in Pakistan's scientific endeavours and has brought the country regional and international recognition. Due to these institutes, Pakistan is known in the field of chemical and biochemical sciences. The HEJ Research Institute of Chemistry has also earned Islamic Development Bank Prize for Best Science Institution in the OIC region, besides many other accolades.
The construction will be completed within one year at an estimated cost of Rs.50 million. The government has also realised the importance of nanotechnology in Pakistan's technological and scientific growth and hence has launched the nanotechnology initiative under Pakistan Council for Science and Technology. Nanotechnology has just the potential needed to bring growth in various industrial and scientific fields and research. The budget for both education and advance scientific research and innovation in the technology fields has to be increased.
These fields should be encouraged and supported by the government financially. Until the government pays its due responsibility toward enhancing education's standards in Pakistan and in spreading education to every town, science and technology can take a back seat. Only few genius minds are able to yet excel in these dire circumstances, but every talent should be given a chance to contribute toward the country's progress. Philanthropy is also very essential in Pakistan, with private funders contribution in the fields of health, education and science.