MeriTaleem.com aims to solve an age old problem for our students, where to go next?
If you have just completed your primary school which college to pick, if you have completed your college which university to pick. There has always been lack of information or rather consolidated information regarding these questions. The best source till now has always been relatives and friends (mostly of your parents). So some uncle did CA and made a good living you should talk to him and decide, or daughter of my sister completed her medical and is practicing follow that career.
The fact that online presence of our existing universities are limited and not regularly updated, these issues multiply, plus if you are in another city getting information about a particular program and admission schedules (tests, interviews) is a real pain.
Here is where meritaleem.com comes in, it will present a single place from where you can search for local universities. If you are interested in a field of study you can look up for universities with the relevant programs. Similarly if you are planning for admission and have just graduated, the admission details are presented in a chronologically sorted list, the best part is they take the pain to scan through all the news papers (our universities have their own preferences where the ad would appear) and update the admission information.
They also have a forum, and a community area where they would have mentors to guide students about their field of study universities and other related matter, this will be a valuable source once the community grows. Similarly there is a scholarship section listing the possible scholarship students can apply for.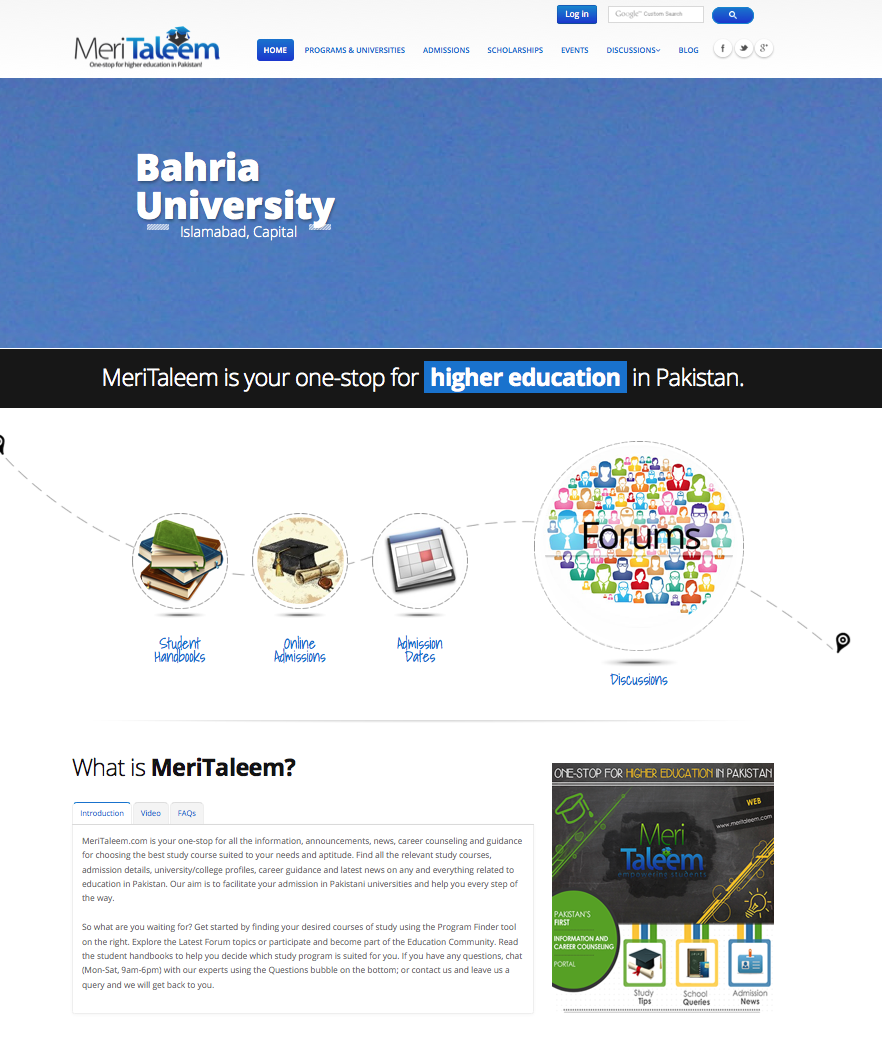 Some of the future plans include having online admission system (integrated with university admissions) so a student can apply to multiple places from a single sign on, they claim to have few universities already on board.
The man behind all this effort is Usama Shahid Khan you can send your feedback suggestions at

Here are the details from the creators of this portal.
MeriTaleem.com
is a centralised online one-stop portal for any and everything related
to higher education in Pakistan. We help all the students in Pakistan
transition into their dream universities and become dedicated
professionals when they graduate through following features:1. Information: We provide up-to-date and comprehensive information on
universities and their degree programs. We have already profiled more
than 150 HEC universities and are continuously adding new affiliated
colleges/institutes to centralise the data of Pakistan's higher
education landscape. The student gets to see programs offered, tuition
fee, admission dates, requirements, how to apply etc as well as numerous
resources for all encompassing purposes. We have also prepared and
published student handbooks that are helpful to any student looking to
enrol in Pakistan's universities and higher education institutes.

2. Admissions/Scholarships/Events Announcements: Due to inefficient
announcements and news platforms for Admissions, Scholarships and
Events, many people fail to get the required information on-time. We
update and publish the admissions (undergraduate/postgraduate/courses),
scholarships (local/international), events (seminars, conferences,
competitions, workshops, expos) on a daily basis. We also allow
universities, institutes and organisations promote their activities to
reach a mass audience through our portal.

3. Career Counselling: We have a free online career counselling section
where we provide live-chat, phone and email support to all our visitors
and also have discussion forums and social community where the students
can not only share their resources with the other students but also get
expert feedback from our team which composes of qualified graduates and
professionals. We also have a dedicated Blog section where we write
guidance articles and publish advice by professionals for young
students.

4. Online Admissions: We have a centralised online admission service for
all universities and colleges in Pakistan and have already signed up a
few universities in Islamabad, Lahore, Karachi and Peshawar. Through
this service, any student can apply for admissions completely online in a
24/7 available, convenient, reliable and secure way and their admission
applications will be forwarded to the relevant college/university of
their choice. The universities have a one-window option where they can
review all the applicants coming in, make decisions based on their
applications, short-list and issue entry test/interview cards as well as
generate final merit lists of selection.

Achievements:
MeriTaleem.com was launched in Public Beta on 1st November, 2013
Signed up over 15 universities across Islamabad, Peshawar, Lahore and
Karachi to be their official online admissions partner
Received P@SHA Social Innovation Fund to scale-up the project and its
impact across Pakistan
Brought in key investors, board members and partners to support and
promote our efforts in "empowering students"
Serving at least 2500 new visitors, 15 live-chats, 10 emails, 5 phone
calls and occasional walk-ins on a daily basis pre-launch
Are among the top 1500 most visited websites of Pakistan pre-launch

Future Road-map:
Cover information about all affiliated colleges/universities in Pakistan
Facilitate more than 1.5 Million annual enrolments in HEC-recognized
and affiliated universities
Set up a dedicated call-center with UAN to support mass population and
help them in the admissions
Provide online admission application service to more than 150
universities and 2500 affiliated colleges/institutes across Pakistan
Establish MeriTaleem as the largest collaborative and social platform
for education in Pakistan
Promote research activities through featuring research works published
by the research community across Pakistan
Make MeriTaleem the default web-portal for education in Pakistan and
support students through various channels
Launch a supporting internships/jobs portal to help current university
students start their professional careers
Work with the Government, Universities, Colleges and Private
organisations in formal and informal capacities for one main goal –
promote and support education and all related activities across Pakistan

About the Founder:
Usama Shahid Khan is the Founder/CEO of MeriTaleem. He is a passionate
young entrepreneur who is striving hard to create social impact through
entrepreneurship and innovative solutions in Pakistan. He is also a
co-founder of Cloud9 Startups which is an investment and mentorship
Usama is frequent event
organiser and mentor for young entrepreneurs and students across
Pakistan. An Information Systems Engineer by training and MBA dropout by
choice, he has worked with leading IT entrepreneurs and companies in
Pakistan and aims to change Pakistan through entrepreneurship, one
venture at a time. When not working, he loves to travel, meet new people
and try out new cuisines. He can be reached on
usama[at]meritaleem[dot]com