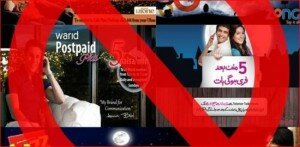 If only were there two things when it comes to the law, firstly the fear of breaking it and by passing the legal authority, and secondly, implementation of the law given full dedication, there would have been less competency and dishonesty in business and society. However, keeping good faith, the Competition Commission of Pakistan (CCP) has put forward "Deceptive Marketing Guidelines" which will maintain the Section 10 of the Competition Act, 2010. In order to enforce this part of the law and stop anti-competitive conduct on part of the telecom companies in advertising, the guidelines have been shared with Pakistan Telecommunication Authority (PTA) and other concerned telecommunication sector members, in particular the telecom companies.
Now, it is for the telecom companies to respect the law and practice their business efficiently. It is the consumers who are at the worst receiving end of these lucrative-looking and appealing claims made in advertisements by these telecom companies. They spend billions annually to convince their target audience why a certain package is just what they need, but with hidden charges and no benefit for the consumers as a result. This is kind of dishonest earning and fair-play and professionalism demands that telecom companies become more straight-forward with their consumers and build a solid relationship with them based on sharing information about their services and products in the right way.
The CCP's guidelines point-out the conduct that is considered deceptive marketing and highlight the correct way through which they can remain safe from being caught on the wrong side of the law and regulations. Such measures which telecom companies think come into their advantage as fine print on ads, distributing false information, disclaimer and qualifications, complex terms and conditions beyond comprehension of the general masses, incorrect price disclosure, comparative advertising and other telemarketing methods which can be a menace to the customers are some of the things which can create trouble for telecom companies if they were not to get their act together.
These are some of the general outlines of the guidelines, but CCP intends to treat each misdeed case individually based on circumstances. This leaves an open end for CCP to even consider certain other measures which have not been mentioned in the guidelines but which clearly are deemed unhealthy in truthful business dealings, marketing and methods. If these telecom companies will give CCP the chance of considering individual cases in future, it will help to shape them into law and better regulations which tightens their space of having a free-pass. CCP has prepared these guidelines after reviewing how other countries like the UK, US, Australia, Canada and Hong Kong take to it.
If telecom companies were to really pay heed to these guidelines, they would eventually be helping their own sector grow from strength to strength rather than see stagnation, which seems doubly burdened when ground realities of the country's adverse security and socio-economic conditions are considered. That thinning of the line can easily be given a better rope of survival and success if laws are implemented in the country as a whole.