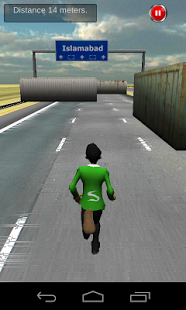 First we had which brought smiles and some short lived fun for us during the election campaign. Then came following the incident of Model Town Lahore, which stayed on top of charts (Pakistan play store) for quite some while. Also Gullu Butt made an update with having the famous "Aam Khaiyga" quote form Aamir Liaqat in which a character resembling Aamir Liaqt throws mangoes and the Gullu Butt character tries to catch them. Gullu butt currently has more than 100,000 Installs
And now during this extremely politically tense situation which had the whole nation on its toes on 14th August we have another app continuing the trend. It's called "Container Run" the concept is simple, its the eve of Azadi March and Imran Khan is on motorway, his journey is blocked by containers, so he ditches his Landcruiser (shown in the first screen) and makes a dash for it, you help him make the maximum distance by avoiding the containers by jumping over them or moving by their side, if you touch the container you fall down and have to play again.
The gameplay and graphics are not what you would call topnotch, but the key for such games is the timing to cash on the sentiments of public and in this regard this app hits the nail on the head. The app was released at the perfect time of Azadi March and is making waves accross all major news channels and print media.
It got coverage on Express News, Duniya TV and Dawn amongst others.
With every one going towards 3G I think its a good trend to have locally focussed apps, although admittedly the quality needs to improve by many folds if these apps want to stay on peoples phone after the relevant period.