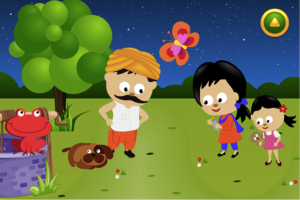 There is a dearth of apps for kids and toddlers focusing on Urdu language. So its always feels great when an organization makes an effort to address this small niche market. We have companies like Qurtaba who made some great small apps on iPhone and iOS, and then ToffeeTv generated some great content for kids in Urdu available on web. Now we have Jugnoo Media working on promoting Urdu and Urdu apps for kids and Toddlers.
They have released an app for iPad and iPhone, its called Duddoo Aur Dhobi which is a combination of two Urdu Poems and presented in a very fun and attractive, interactive poem. Kids get to sing along the poem while interacting with characters and things on screen. The voice over is fun and my 6 year daughter has been singing the poem since morning, not be left behind her two younger brothers are all over the app as well continuously playing it again and again. Specially the last scene when Urdu counting is done.
Jugnoo Media has the famous Imran Zia at its helm and I wish we see more releases from them. You can go ahead and download the apps from following links.

Here is the press release.
Duddoo Aur Dhobi Released: Local app to make South Asian content fun for kids

Lahore, Pakistan – February 8, 2013 – JugnooMedia has released a mobile app titled "Duddoo Aur Dhobi" for toddlers and children 1-3 year old. Aimed at providing fun content for Indian, Pakistani and other South Asian children, the app is based on two popular Urdu nursery rhymes "O Baba duddoo'a" and "Dhobi aaya". It is a 'digital toy', which provides a highly interactive and immersive environment for children. The app has lyrics and characters based on South Asian themes, heroes, stories, traditions and context.

Duddoo Aur Dhobi is initially being released on Apple's iPad and iPhone platform but will also be available on Android platform soon.

JugnooMedia is aiming to provide wholesome entertainment and educational content for kids of all ages. It realizes that it is difficult for South Asian parents to find good local language based entertainment, information and educational content in electronic format for their kids. JugnooMedia's quest is to provide such content.

Jugnoo means 'Firefly' in Urdu, Hindi and other regional languages of South Asia. The venture is named JugnooMedia because the founders were simply enthralled by the vast presence of this small insect while growing up. In old days, it was the norm for young children to run after these beautiful insects and attempt to catch them. Other children would catch a bunch of jugnoos and put them in glass bottles to make lanterns. In today's day and age, this beautiful and fragile insect is under severe threat. As cities become large, paved and cemented with less and less natural habitat, the jugnoo has virtually disappeared from large cities of South Asia. Local culture, heritage and languages are on the defensive; being squeezed by the massive global culture which emphasizes cultural homogeneity at the expense of cultural diversity. It tends to be more material than spiritual and is devoid of local context. JugnooMedia wants to change that. Its first project is to build immersive digital toys in local languages that are based on popular nursery rhymes of the region.