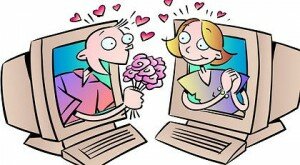 People are now becoming social recluses on the ground only to be very socially active online. Internet users find for themselves such activities as playing games online to discussing and debating and expressing their own heart out through personal blogs and tweets. Chatting is also a common engagement for netizens who are very involved in finding like-mindedness around.
According to a report in India's leading English daily, Times of India, internet marriages have become the latest trend in Pakistan. Although, it is not unheard of, but it cannot be said that it has become a norm in this country. People do meet online, interact over a course of time, form friendships and possibly even fall in love and someday, they get are found as a couple. Such happens everywhere around the world. But a place like Pakistan, which is considered to be very traditionally rooted in its own customs, there are strands of diversity too.
The report mentions the case of a 22-year-old daughter of a conservative truck driver. The girl, named Sania, had married a guy she met online, but faced severe reaction from her family, especially her father. Although, one would find many such stories in novels and films, but the dramatization in fiction media is nothing as compared to what really takes place in reality. It is less about the romantic notion of having a "secret" relationship and more about values, customs, tradition and moreover honour of a Pakistani family.
Foreign media often depicts Pakistan in the negative light, much to the extent that the reality of the Pakistani community has become obscured with the narrative created by the pundits spinning the media. Although, this particular report mentioned a case where it became a problem, there are couples in Pakistan that have met online and were married later happily. The report quotes the professor of sociology from Quaid-e-Azam University in Islamabad, M. Zaman, saying that:
"Internet marriage is a new emerging trend in Pakistan. Technological advancement has entered into our homes and traditional taboos are slowly vanishing in educated and affluent families."