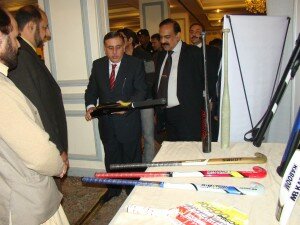 Recently, Pakistan Composite Show was held in Islamabad which consisted of a symposium, policy dialogue and industrial exhibition. The event was organised by the Composites Engineering Research Group of Department of Mechanical Engineering (DME) and NUST College of EME.
The event was attended by more than 150 senior academics, industrialists and government officials. They exchanged ideas on the evolution of the industry and discussed policies for industrialization in Pakistan.
The event also featured more than 20 companies. From the symposium, establishment of a joint technology center was proposed based on funding from both private and government sectors. The center would serve to increase export volume by 10 times within the next five to ten years, if it is established. If such a plan materializes, then the boost to the economy will be tremendous. Joint technology center will also serve better for coordination and centralization of efforts toward technological development of Pakistan.
The opening up of public-private partnership for the defence and security interests was also discussed. Already, private companies are handling defence contracts from developed countries. In Pakistan, matters of national security have always been handled by the military, but the trend could change if better private sector bids are offered.
If something substantial comes out of this first of its kind show, then Pakistan's technology and industrial sector can go hand in hand and develop with better integration.