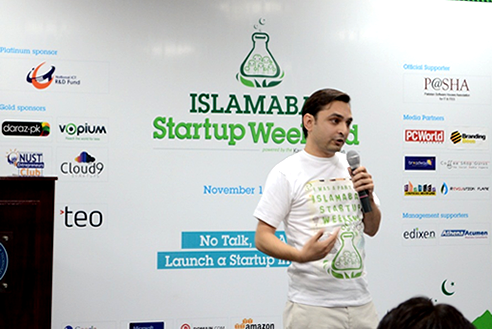 Three days, fifty-four hours, a lot of  ideas, some very amazing minds and a passion to be better than the rest; that is what we were given on Friday November 16th, 2012. We didn't even know what we were going to do with that medley of items from such different sources. But now, I'd like to think that we achieved a lot more than we expected. We were never sure about where we were going. We just had a vision and a passion for achieving that vision and that passion took us to places we never thought we'd see.
Islamabad Startup Weekend was not just an event or an idea; it was, in my opinion, the best practice we could generate to promote the culture of entrepreneurship among the people of Islamabad. And we hoped that this would further the concept into each and every corner of Pakistan.
Not many people are familiar with the relatively new concept of Startup Weekends, and here lies the first hurdle in organizing one. Startup Weekend is a basically a non-profit organization based in Seattle, Washington, USA. The highlight of the organization being the various fifty-four hour weekend events that are held around the globe every year in collaboration with Kauffman Foundation, Google and Microsoft. The idea being to develop a common platform for a bunch of developers, business managers, startup enthusiasts, marketing gurus, graphic artists and many more people to communicate, come up with ideas and to work for those ideas. They have fifty-four hours to work for those ideas and then present them in front of a panel of judges, who then select the best of the best. Startup Weekend is no small organization, they cater to a large audience all over the world, in more than three hundred cities in over hundred countries. Boasting a total of 672 events, with 57,000 entrepreneurs, they've been able to launch over 5,000 startups.
So, what really happened in those fifty-four hours here in Islamabad that created ripples throughout the globe?
It is not at all easy to recreate those moments here. You really had to be there to feel the impact. To really get your heart racing, you had to test yourself against the intense pressure of transforming an idea into a reality in those fifty-four hours. What we can review is how it all went about.
At first, it wasn't easy to bring different people onto a single platform, to join hands and to work on something unique. But on Friday when the Startup Weekend started, the overwhelming response from people all across Islamabad, and even from outside Islamabad was very inspiring to say the least. It meant that people were willing to put aside their differences for the sake of achieving great things.
Starting with around thirty ideas, we began listening to what they all had to say and how they were going to change their realities. Everyone was good and tried to convince us that they would be the next big thing. The judges and mentors then chose fifteen ideas that they thought they could work with during the weekend to make them market viable.
What ensued after were two intense days of working with the mentors, writing codes, making presentations, refining rough edges along with sleepless nights and half-eaten meals, just to turn those ideas into realities. And when I say ideas into realities, I really mean it. For when it was time for the final presentations, no one could say that it was the work of an amateur, for the ideas were so refined that, win or lose, the teams could just go out the next morning and start their own ventures now, without any more help from us.
In the end, only three teams were announced as the winners. With ideas ranging from BookSnap, an application that allows you to photograph some page and save it as text, to Green Information System, software to inform farmers about better farming practices, to YumnDum, a portal for predicting likes and dislikes and generating reviews, the venue was buzzing with creativity and innovation seemed just a hand's reach away. The winners were given some capital to start their ventures and our sponsors Cloud 9 also announced that they'll be giving free incubation space to the winners as a starting place for their ventures.
It was not only the ideas that made this weekend memorable, we also had some very great people with us over the course of the weekend who've working very hard to promote entrepreneurship. We had Muneeb Idrees, Co-Founder Daraz.pk at Rocket Internet GmbH; Syed Ahmed, Vice Chairman at P@SHA and CEO at DPL; Adnan Shahid, CIO – Chief Ideas Officer at Ideogeny and Chief Operating Officer at Branding Bees; Obaidullah Khawaja, Entrepreneur, founder and CEO at Sovoia; Saj Khan, Senior Program Manager, Convo.com; Faisal Khan, award-winning entrepreneur; Mohammad Yousuf Khan, Master Strategic Planner at Six Sigma Associates; Adnan Ali, Marketing Technologist; Fahad Yaqub, Developer at Scrybe; Jibran Ghani, Digital Marketing Manager at Vopium; Hasan Mubarak, Business Development Manager at Vopium A/S; Zubair Khan, CEO at Tranchulas; Zeeshan Haider, COO at Askoli and Rohan David Emmanuel from Coffee Shop Gurus.
It's never easy, bringing a concept to life, or as we like to say, turning an idea into a reality. In retrospect, I can only say that the same case applied to us, we were no different. We only wanted more, something big. And that passion in itself, made us different. We wanted people to realize their dreams, to follow the path less travelled by, and to make this place better for all of us, and I think we've been successful, if not fully then to some extent we have been.
So please, just get up and start working for something big, a larger than life concept as Syed Ahmad would say. What you have now, no one had before. All those success stories you read or listen to had nothing more than what you've got now.
We are, The NUST Entrepreneurs Club, and let our message be heard all across the nation:
Work for your dreams, work hard for them.
Never loose heart and never back down.
We will help you if ever you fall.
So just Think BIG… never small!
Author:
Ahmad Khurshid, Secretary General at NUST Entrepreneurs Club