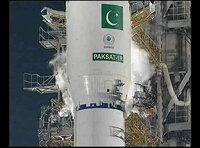 Pakistan's Space and Upper Atmosphere Research Commission (SUPARCO) Chairman, Major General (retd) Ahmed Bilal believes that if interest in the space sciences is not developed at the school level, then Pakistan's space programme will face lack of human resource in future. Thus, space sciences should be introduced in the curriculum to produce quality minds to run Pakistan's space programme.
With the promotion of space sciences Pakistan will be able to apply technology in geology, agriculture, topography, hydrology, and other such advance sciences. In order to get students interested in space sciences, SUPARCO has started a project called Student Satellite and it will be launched in the near future.
The Chairman pinned down the reason to lack of funds which does not let space sciences develop in Pakistan. Although he believes that Pakistan started out positively and achieved considerable success within a short time period. SUPARCO takes its inspiration from National Aeronautics and Space Administration (NASA) of the U.S. when it comes to looking ahead.
The Chairman also assured that as far as defence satellite technology and military satellite are concerned Pakistan is very much secured in the position it is at. However, he did not disclose how much such kind of a technology has been developed by Pakistan. But he mentioned in an interview with The News that Pakistan will be able to launch Remote Sensing Satellite within the next three years.
China has been a huge help for Pakistan in its Space Programme and currently around 90 Pakistani space scientists are working under Know How Training and Transfer Programme (KHTT) with Chinese space experts. There must be an independent and strong space vision of Pakistan's own keeping both scientific and strategic importance of space technology in today's world of fast communication.