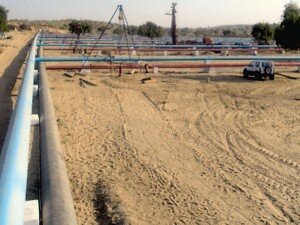 The international environmental community is showing strong criticism on the Thar coal project which will produce synthetic diesel by underground gasification of the coal reserves. The project, called the Thar Underground Coal Gasification, has been on a halt due to concerns raised by Dr. Abdul Qadeer Khan and Shahid Sattar, the member of the Pakistan Planning Commission. However, the U.S. has supported the project with foreign aid of $10 million.
The scientists working on the project will use the Fischer-Tropsch method and believe that they will be able to produce diesel from coal within months. The criticism is on the project's cost effectiveness and ability to produce cheaper diesel, which some coal technology experts believe is not viable.
The Director of the Center for Coal Technology, University of the Punjab, Shahid Munir, wants an independent study on the project carried out by an internationally recognized agency. The advisor on energy at the Sustainable Development Policy Institute, Arshad Abbasi, also believes the same as Thar lignite has a low calorific value and high vapour content.
Pakistan is facing energy crisis right now and corruption along with lack of transparency in the government's methods is making matters worse, while the public continues to suffer. Instead of halting projects and speaking out in criticism, there has been a proper government body that carries out its survey based on the findings by a neutral party upon which the scientific community and the government's planning commission can be taken on board. Other states are successfully looking to alternate energy solution and Pakistan with its natural resources surely should be able to take some kind of a lead based on already tried and fruitful methods.