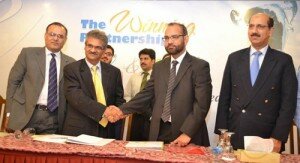 Pakistan Telecommunication Company Limited (PTCL) and PharmEvo, which is a local pharmaceutical company, are together planning to spread awareness about health issues amongst the medical community. Both of these companies signed an agreement to establish 'WiFi Zones' in hospitals under PharmEvo's initiative called "NISE Initiative in Spreading E-Health", which is part of its NISE Campaign.
Due to various projects, PharmEvo has been able to gather research-based medicines and data on health related instruments from around the world. This will help Pakistani doctors in solving medical problems. In order to get technical support on this initiative PharmEvo got PTCL on board. When information and technology is being introduced in every sphere of our lives, then incorporating its benefits in health care sector is a must. Innovative technology is giving a new insight to doctors into diseases and health cures as well as in medical instruments and machinery that can assist them in diagnosis and treatment of health issues.
This 'WiFi Zones' will be created in both private and public hospitals. This would give non-stop and round the clock internet accessibility to doctors. It will also help in telemedicine and getting consultation over the internet from overseas doctors and health experts. It is good to see a major private sector health-related company to step forward in joining hands with government and other semi-government companies to bring benefits to the public.
Although, PTCL being the government's telephone service provider holds a monopoly for being the largest internet service provider currently, but its internet service has some faults too, like the internet supply being disrupted and at times being slow. If such difficulties could be overcome during this "WiFi Zones" project then it will really be helpful.