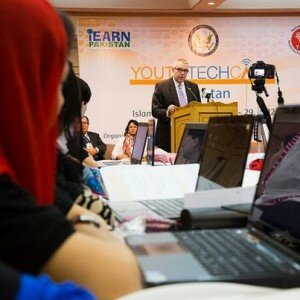 The first-ever three-day Youth TechCamp in Pakistan for training in civic journalism and social activism recently concluded on September 29, Saturday. It was financed by the U.S. Department of State to promote digital literacy in Pakistan. There were 40 young Pakistanis who were trained under this three-day session by technology experts. It is important to hold such training sessions for digital literacy as internet is a powerful tool that can reach places.
These 40 young Pakistanis are alumni from the Kennedy-Lugar Youth Exchange and Study Program. Under this program, Pakistani high school students can spend one academic year in the U.S. for studying. The Youth TechCamp was visited by the U.S. Ambassador Richard Hoagland, who is Charge d'affaires for the U.S. Embassy in Pakistan. The students shared their expectation from such a program and what they have been able to gain from it. After Washington, D.C., and Bangladesh, it was third time held in Islamabad.
It is part of a wider program which helps promote such civil society initiatives which brings technical capacity in people. Pakistan has a long way to go. The things learnt from such an experience could be shared on by starting more of such digital literacy initiatives across Pakistan by educational institutes.
Through such capacity building in youth of the country, they can be made to be better equipped in the digital world of the future. The rest of the countries are moving with a fast pace and Pakistan needs to keep up. Even introducing internet connection in high schools and teaching students to learn to use internet for research purposes and also subscribing to international research journals for universities all across Pakistan will help the country step into the digital age.