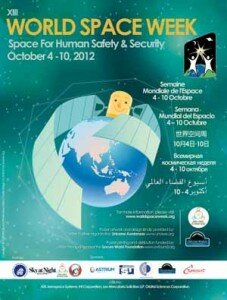 Pakistan will be participating in the celebration of the World Space Week (WSW) this year from October 4 to October 10. The Space and Upper Atmosphere Research Commission (SUPARCO) will arrange for events taking place with space technology theme in cities across Pakistan. The World Space Week has been celebrated since 1999 to remember contributions of space technology made in improving human civilization. Almost 89 countries around the world celebrate this week.
The two major events which took place decades ago initiated man's phase of space technology. The first event was of first man-made earth satellite's launch on October 4, 1957, called Sputnik 1. The other is signing of the Treaty on Principles Governing the Activities of States in the Exploration and Peaceful Uses of Outer Space, including the Moon and Other Celestial Bodies. This very important space treaty was signed on October 10, 1967. The WSW is being especially focused on increasing interest from students about space science and technology.
SUPARCO has been celebrating it since 2005. This year SUPARCO will engage educational institutions, especially major higher education centres, so that space technology awareness can be spread to its maximum reach. One of the events is a Nationwide Poster Making Competition on the theme of "Friends in Space" as designated for WSW 2012. Students between the ages of 8 to 11 years are eligible to compete.
In countries, like the U.S., China, and Russia, advance level of space programmes are undertaken by their governments and they must have public support too. Hence, awareness amongst the people is of utmost importance. Pakistan must start working on different space programmes too so that it can compete better in the world of the future.