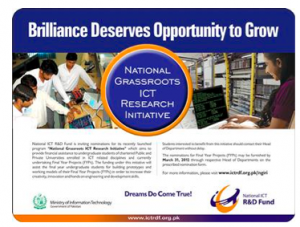 ICT R&D Fund aims to provide graduating students a chance to really make their final projects counts. I have always felt that students in their final year some times product excellent products which due to lack of any infrastructure and proper guidance plus funding just go in the Universities Libraries.
Seems ICT R & D fund is giving these students a chance to take their projects to the next level by acquiring funding, if you are a final year student doing a project all you need is to get this form filled and submitted through your head of department .
Last date for submission for forms is 31st March. 
Details can be found here, text from the site is also added for your convenience.
http://ictrdf.org.pk/ngiri/main1.htm
This initiative aims to promote, enable, and encourage R&D culture at the grassroots level by funding relatively high caliber R&D projects initiated by students under the mentorship of faculty members in chartered universities of both Public and Private sector.

Through this initiative the Fund will provide financial support to selected Final Year Projects (FYP) of undergraduate students enrolled in ICT related disciplines like Computer Science & Information Technology, Electrical, Electronics, Telecom, Computer, and Software Engineering.

The financial assistance under the initiative will enable students undertaking Final Year Projects (FYP) in building prototypes and working models to showcase their creativity and innovation by applying hands on engineering and development skills. The funding under this initiative covers the cost of purchase of equipment and other miscellaneous costs associated with the development of the prototype or working model.

Recommendations for currently ongoing Final Year Projects (FYP) should be submitted to the Fund through the respective Head of Departments on the prescribed Recommendation Form. All the recommendation received will be evaluated by a committee of experts constituted by the Fund. Final decision pertaining to the selection of any project for this initiative shall be taken by the National ICT R&D Fund.