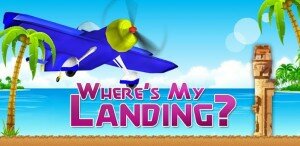 Hey game lovers, look what we have for you in box today….
"Where's my landing", an interesting game developed by Gameboss* for android phones. All of you must have heard about doodle jump, a fun puzzle game where you jump through your phone and get that feel of tapping;
With Where's My Landing, you can get a feeling of flying and destroying targets simultaneously and that not just it, the most interesting and ambitious part is solving the puzzle by making a safe landing so the players enjoys flying smoothly while clearing the obstacles and in the mean time making an effort to land safely, gives a true feeling of a pilot who is lost on an island and trying to get some place safe as soon as possible. Make sure you instantly tap to drop bombs upon obstacles to clear them and keep on collecting bonuses by touches them or by dropping bombs on them whatever feels more convenient while flying on your smart phone?, remember! You cannot land in water or the places you have bombed.
The game has multiple episodes, easy controls and a stimulating sound track which keeps you amused. Graphics are okay but overall it's a pretty refreshing game.
*Game Boss is a leading game development company, almost ruling the android game market with most of their games in top 50's, Appbrain – another popular market after android, also features quite of these games and if you are really interested in some great graphics along with story and fun play, go and check out Gang wars, Mafia Empire and marine defender
For now GO FLY and see where's your landing… all the best with that!!! ?
Hers is the youtube promo.

Reference Links
http://www.androidapps.com/games/apps/1070854-where-s-my-landing-the-game-boss/developer_notes