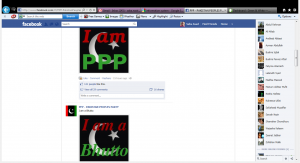 Recently, I have observed increased activity from political activists on social media, especially on Facebook and Twitter. and Pakistan have especially been seen to report all political activities and developments for their followers and critics. Currently, even seems to encourage participation in political discussions, 16 posts have been added within past 24 hours to their Energy Conference held in Serena, with dozens of photos, parts of speeches and opinions.
Question arises where is ? Is our government as concerned to spread the message online or have they accepted defeat already? Where other parties are flagging their causes across the internet and reporting every party activity online for those who couldn't participate in the concerned events we see PPP putting up posts like "vote for PPP" and "I am PPP", indifferent to what the awaam is interested in.
However, alot of negative energy is also transferred as party admins not only promote their own party activities but also throw dirt on others'. Criticism is open and without bounds. Putting up private pictures and posting of unconfirmed news items and gossips is common practise. This leads to agressive discourse by general public and party followers, forgetting boundaries of decent language and ethical discussions. Shouldnt there be some ethical boundaries of what can or cannot be posted online so as not to mislead the general public?
We want to see what our political parties are made of, their reason for existance, what changes they have brought in Pakistan and what changes do they aim to bring. Those parties which are still invisible in this online arena must wake up soon because if a little common sense be used, social media can be exploited to build a political brand, like Obama did prior to elections, especially with the recent boom in internet users, as it has crossed 2million benchmark in Pakistan.