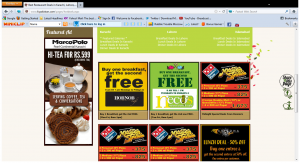 I happened to be in Quetta on a business trip last month with no idea of where to dine alone. Being a typical Lahoriite, a die-hard food lover, it matters to me that I try the best food of the place I visit. So this is where FCPakistan came to my rescue. I simply logged in, typed in my desired specifications and got atleast 5 suggestions.
The listing included their opening times, specific facilities like ease for physically disabled customers, credit card acceptance, smoking areas, take away facility, whether valet parking was available or not, and even directions to get there! What more could you want.
Although that was the first time I used their service, it has become a practice since.
FCP (Food Connection Pakistan) was launched July last with an aim to become a platform where local restaurants get recognition for their individual efforts. I think they have achieved that to a great deal. Other than restaurant info they display featured ads showing hot deals of many top restaurants and food chains. FCP has also built strong alliances with some media groups and has strong digital presence on most popular communities like Facebook and twitter. Although it lists over a thousand restaurants from all over Pakistan with regularly updated information, it is still a challenge to include eateries from smaller cities like Kharian, Sargodha, Mirpur etc. since alot of research and close allainces would have to be formed which might be difficult to manage. Also it is not easy to breakthrough into our culture of slow adaptation. alot of convincing will be put in to convince traditional eatries like Sarhad restaurant to bring them on web. FCP should also put in an effort to define the eateries' ecosystems. But nevertheless, it is an laudable effort and can gain more recognition and appreciation if promoted more aggressively.
Related Links
http://www.fcpakistan.com/pages/home.aspx
http://www.dawn.com/2011/08/05/the-food-connection.html