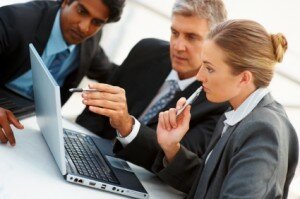 This is a revelation that came to me when I recently quit my comfy corporate job for the second time. If you are below 40 and some one asks you about how is your job going and your answer is not in tune of "I like my job because I love the work". 
You need to pause and asses your career, last time I answered this question my answer was "I like the job, because the benefits are good", and that made me think (offcourse there were other factors as well). But if you are doing a job in which to satisfy your own self you have to look at the benefits. Then probably there is some thing wrong.
Remember you can not lie to your self, if you are not satisfied with your job and each morning you have to drag yourself to your work instead of jumping out of your bed and looking for another exciting day at your job you need to change few things. Also if  you find your self at this position, quitting the job is not the only thing, there are strong chances that you would be able to find some thing within the same organization that would spark our passion.
But change things around you if you like the job because it comes with a company provided car, or travel. The problem occurs when after doing such a job for a couple of years you look back and try to identify your achievements, at that later stage when  you look back you don't see all the benefits you enjoyed, but only a dull stagnant career you have been going through.
So do your self a favor if you are not excited about what you do day in and day out, try to change your surroundings, or when you reach around 40 you will rue the chances you missed and things you could have done. Below 30 you should not even think about the money only about what you will learn and how you will grow. Post 30 and below 40 years of age you should work your butt off for what your passion burns and then hopefully you will enjoy success and will savor every bit of it.
Just some thing I wanted to share.