PreText of Bismillah is simple, you get to create a unique email id, which boldly represents your Belief and religion. You would think that such a niche market would have limited users, however I was pleasantly surprised when I saw the numbers and stats for the site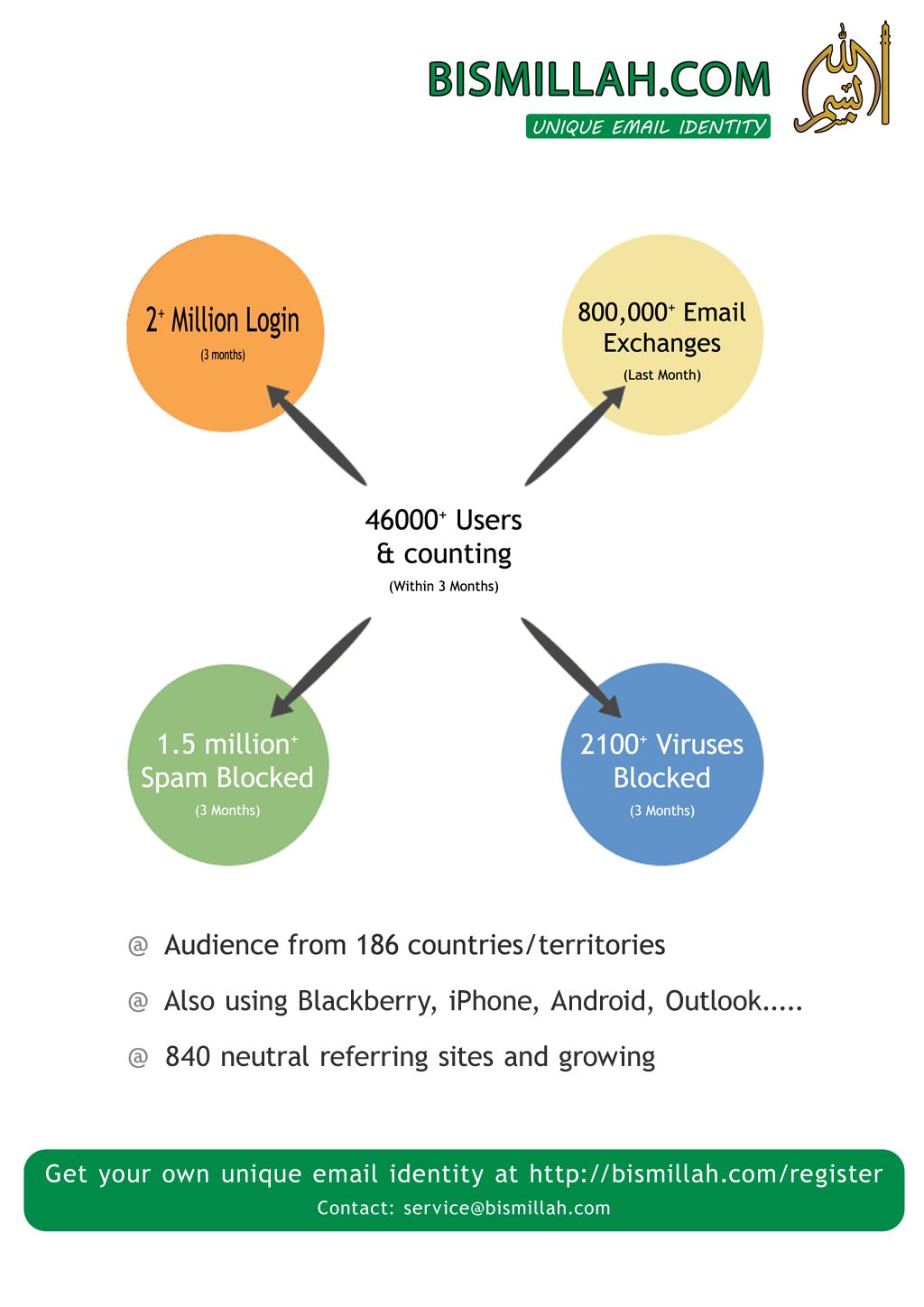 during their first few months of launch they have been able to get 46000 users which is a feat in it self. I got to talk to the team and here is a brief discussion we had
When was bismillah.com launched?
Answer: Bismillah.com domain name was reserved in 1995 to build a community around Muslims. Bismillah Mail is Bismillah.com's product and we are working on it for last 6 months. Public beta of Bismillah Mail was launched on September, 2010.
How does the traffic look like (number of hits, unique visitors etc)
Answer: So far the statistics are very interesting. Following are our last 30 days statistics
- More than one million emails sent and received.
- More than one hundred and fifty thousand emails blocked and marked as spam.
- More than half a million times users have logged into our servers from our webmail client or third party email clients (like Apple Mail etc).
- More than three hundred thousand page views from 181 different countries/territories.
What is the current number of registered users?
Answer: More than 46000 registered users.
Sustaining an email service is a tough job specially regarding to server space you need to maintain, how do you plan to manage it?
Answer: Its a very good question. We have deployed our application in a cloud environment. So we can easily grow server performance and disk space as needed. And for that we have designed our product for Amazon cloud computing and storage services.
Whats the business idea behind this, how do you monetize in future ?
Answer: We have a niche market with huge potential. Besides advertising to this highly specific and rapidly growing audience, some of our new advanced features will be subscription based for organizations. But for individuals we'll prefer to be free.
Who is the founding team behind this?
We have started with a team of 4 people working on the service. It is backed by the owner of the domain, Mr. Muhammad Arshad Jalil, a Pakistani entrepreneur with more than 20 years of business experience in technology and aviation.