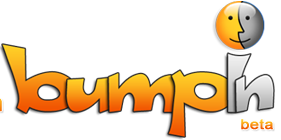 BumpIn is an interesting local startup in the Social Browsing Space that recently, and very quietly, started their public beta. They have created a Firefox extension that shows up on the side of your Firefox browser window. The sidebar lets you see exactly who else is browsing the same webpage that you are looking at at any given time. What's more, you can discover these people by similar interests, chat with them and make friends with them as well.
An interesting twist is that what you see in BumpIn happens live in front of you because of some "real-time" browser technology that powers it (there is some work with SmallTalk in this area). You can see people enter and leave and join or leave the conversation. This theoretically makes the browsing experience much richer, because you can discuss a webpage and continue the conversation with the instantaneous community that happens to discover the same thing on the web.
BumpIn is a project that Dr. Umar Saif is actively involved in, and a number of LUMS students have been working with him for about a year or more to develop the software, some continuing to work on it after graduating. Whether or not LUMS is officially incubating this company is currently unknown.
BumpIn is operating in a fairly crowded space — other applications that do similar to exactly the same things include Me.Dium, Swarm, Flock, Eyebees and to some extent MeeboMe. What's more, Mozilla Labs has already announced that they are also building The Coop, a social networking tool to be built into the next version of Firefox.
This creates challenges for BumpIn's roadmap — more thoughts and a screenshot of BumpIn below
As exciting as this technology may seem (strictly from a technical point of view) BumpIn would have a challenge defining a business model. - based on a similar premise – has already identified the promise and demand of the Social Browsing market, and was acquired by eBay earlier this year.
However, outside of looking to sell the product to a bigger company, social annotation and browsing companies are sometimes positioned against the interests of the content publishers (i.e. the actual websites people form communities around).
The world of online content publishing is still based on counting unique visitors or click-through ratios, and social browsing products (atleast the ones similar to Me.dium) can potentially reduce those numbers, even though they increase the numbers that relate to attention, or the amount of time spent on a particular website. As (and if) advertising models mature enough to recognize attention over basic numbers, publishers would be happier to promote complementary products such as BumpIn.
Another significant area of value that BumpIn can tap into is social search. If BumpIn were to show people who browse through a similar stream of websites rather than individual sites, then if I am looking for something specific and poking in and out of sites, there is an incentive for me to also ask other people also doing a similar search — perhaps together we could find that item quicker, or share clues that help us browse the interweb with more relevance. Social search, integrated with Social Graphs (also something that could emerge in a year or so) could make the product more valuable.
Other than this, the trouble with general-purpose consumer use is that people may not feel comfortable browsing with an application that technically spies on you.
Lets open it up to your thoughts – would you feel excited following a cricket match at cricinfo while being able to chat with others who're already there? What about other everyday situations (email?)
Go check out the beta at bumpin.com and write your review in the comments