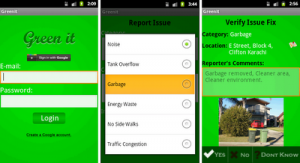 Google recently the names of the winners of the "Google I/O Develop for Good Global Hackathon". More than 30,000 developers from around the world came together to present their creative talents at 350+ I/O Extended events that took place in 172 countries over the course of this year. The Google blog post announced the winning team in each category. For the category of "Google Green" that had the motto, "Help us all be a little bit greener!" a Pakistani team from GDG Karachi Extended event took home the accolade.
They developed a concept for "Green It", which is a Google+ based app allowing users to report local environmental concerns, gain validation of the issue using nearest smartphone and aggregate reports with a public interface where all can participate. Also, the users are given incentive to participate through a rewards system.
Already Pakistan is facing environmental issues and the government has the least concern for it. The responsible approach from a caring citizen is to take individual action rather than depend on government agencies to make policies of preserving the environment and preventing further pollution. Environmental care is one aspect of our collective lives in a community that we can work together to make better. Such creative means as creating a "green awareness app" helps bring the efforts of environmentalists together.
The other winning teams were from San Francisco for Google Ideas and Nigeria for Google Politics & Elections. As a reward, the winning teams all received tickets to attend I/O 2013 and were given honorary title of "Google Developer for Good, 2012". We hope that the winning team from GDG Karachi Extended event will continue with their creative efforts to innovate again.