Clarification and Disclosures: The author of this post has no business relationship with HTC and has based this on personal time spent in researching the different set of functionality
It is the smallest Windows Mobile® PDA phone, it comes with a multi-touch sensitive screen interface, it is yet the only phone with a 3-D rotate-able multi-menu access design.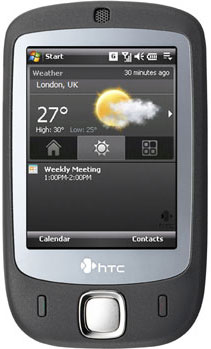 TouchFLOâ"¢ is the X-Factor that is earning this phone the hype and the need-appeal. The GUI is actually a 5 dimensional (5 menu views as a rotate-able block) rotate-able menu/options block that responds to finger movements. The user simply uses one thumb to select, open, activate and thoroughly utilize the various features in this gizmo.
The phone portrays a sleek 2.8" LCD screen with backlight with a resolution of 240×320 dots sprinkled with 65,536 colors. The 2.0 megapixel CMOS color camera enables you to treasure lively moments of your time.
Your entertainment needs are equally served with the friendly and familiar Windows Media Player with supported popular formats as AAC, AAC+, eAAC+, MP3, WMA, WAV, QCELP, MPEG4, AMR-NB, AMR-WB. The built-in microphone and 3-in-1 speaker do their job well.
Share & transfer your pictures, songs and movies through Bluetooth® 2.0, Wi-Fi or the HTC ExtUSB™. If you are a podcaster then simply upload through the GPRS or EDGE service.
Processing a 201MHz the TI's OMAP™ 850 does an impressive performance most of the times. Memory specs for this gizmo have questionably been kept modest at ROM: 128MB and SDRAM: 64MB DDR. Good news is that the phone comes with a 1GB microSD card in the box. An expansion slot provides room for a microSD™ memory card (SD 2.0 compatible). Operating System is pretty stable and tried Windows Mobile® 6 Professional.
Engineering design excellence is that all the above package has been stylized in a 99.9mm (L) X 58mm (W) X 13.9mm (T) casing at a comfortable 112grams with battery. Its loyal companionship stands at 200 hours of standby and 5 hours of talk time.
All the reason that this innovative and value driven phone (selling at approx. 305GBP) is flying off the shelves in the
UK recent launch and has already been a hit in
Taiwan; its homeland. The
USA launch is around end 2007. The release of htc TOUCHâ"¢ is planned for the UAE and Asia but yet not dated.
htc TOUCHâ"¢ is sure to give tough time to the competing phones in its category such as the LG Prada (Black Label Series). imate PDAs, iPhone (branding wise I think still a different league), Nokia, Sony-Ericsson and Samsung competing series.
htc TOUCHâ"¢ has definitely changed and raised the user experience level at an industrial scale. We will, for sure, see the touch screen feature fast become a regular just like cameras and multimedia features have already become for any phone to sell big with a profitable tag.