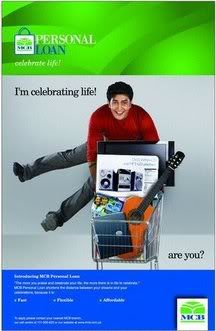 What is easy credit doing to Pakistan's consumers, most of whom are new to the credit game? Looking at the advertisements it would seem that the banks and card companies are using aggressive and misleading ad campaigns . They make it sound as if taking debt through credit cards is "the way to go". Considering the exorbitantly high interest rates, minimal to no consumer education and weak consumer protection laws in Pakistan, this kind of uncontrolled credit offers wil be a disaster for quite a few. Pakistani bloggers have started writing about this issue. I wanted to share excerpts from a post by Adil Najam from Pakistaniat.com on this issue.
I have long argued that the emergence of a true and well-managed market for credit is amongst the most important things for Pakistan's future economic progress, because it will level the economic playing field and enhance both opportunity and choice. Having said that, credit is a tricky commodity and needs to be handled – and marketed – with care.

Even in advanced industrialized economies it can go out of hand — in the US total consumer debt is now nearly US$1 Trillion and can lead to countless wrecked lives.

But, back to Pakistan. The type of aggressive — some will say ruthless — advertising of credit that could lead to immense personal tragedy in the future.

Lets looks at this advertisement. The young, needlessly exuberant, artificially excited, young man in the ad seems to believe and wants us to believe that the best way to 'celebrate life' is to buy a bunch of high-end, imported, luxury item that he can otherwise not afford and probably does not need (a guitar, a top-end cell phone/PDA, an even more top end sound system, and a computer 'literally' thrown in). Even if he has to get a loan to do so!

This ad is aimed explicitly at studentswho are told the loan is 'Fast, Flexible, Affordable.' Of course, one does not expect MCB to discuss here what better uses a loan could be put to by a student (tuition and education costs, or an entrepreneurial experiment, for example). But one does expect a reasonable bank to advise young people (as they do in many parts of the world) about thinking carefully about credit.